This series of drawings expressing our friend Jonah's adventures with a very special fish is based on paintings I created some years down the line that were lost between church exhibits.
The art is redrawn and revised on my computer, using original sketches and color photographs of the originals. I tried to keep the character and texture of the original paintings.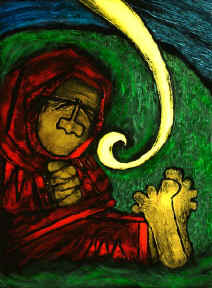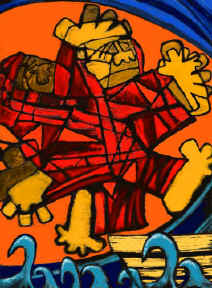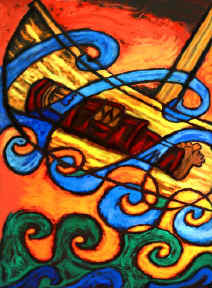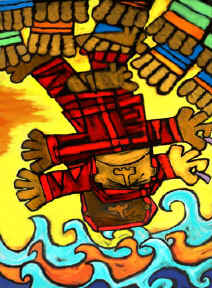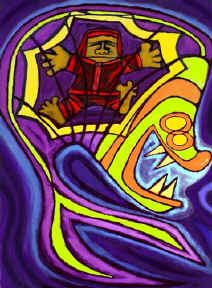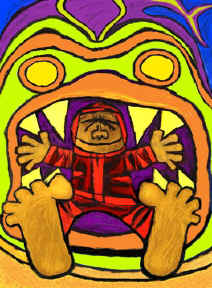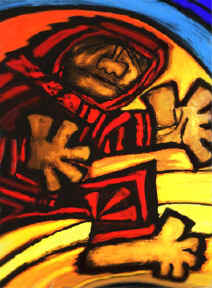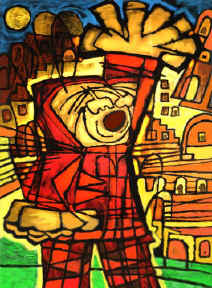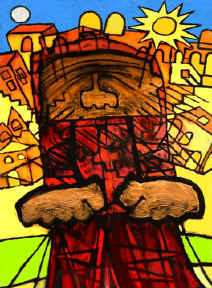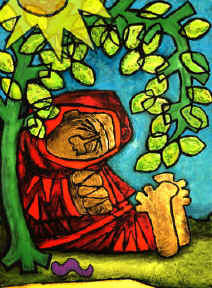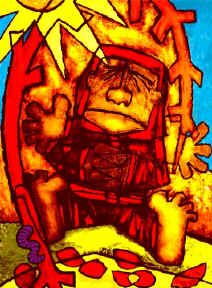 The artwork on Jonah is available as Ink Jet Prints printed on art quality, heavy weight paper. The prints are signed and numbered in limited editions of 48.
Sized at 13.3" x 18" the prints are available matted and framed at 18" x 24" for $225.00
The artwork is also available as prints only with borders for $150.00
All prices include shipping...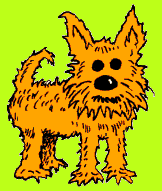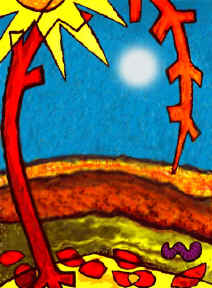 And God spoke to Jonah... Jonah 1:2
Jonah flees from God... Jonah 1: 3
Jonah sleeps during a wild storm...
Jonah 1:4,5
Jonah tossed into the sea... Jonah 1:15
Jonah meets God's special fish... Jonah 1:17
Jonah prays to God... Jonah 2:1-9
Surprise! God answers prayer... Jonah 2:10
Jonah takes off for Nineveh... Jonah 3:2
Jonah proclaimed God's message... Jonah 3:4
Jonah was displeased... Jonah 4:1
Jonah cooling off... Jonah 4:6
Jonah, hot and bothered... Jonah 4:7-11
Back to beginning of gallery...
His name is really Nineveh, but Jonah calls him Ninny.
Ninny had a problem with faith, and it took him a little longer to get out of God's special fish.
Mission accomplished, the worm goes home...
The art is Computer Mediated using PhotoShop 7 and Paint Shop Pro 8.
The word of God forcefully came down...
"Arise, and go to Nineveh...Go, Go, Go!
And preach against that wicked, dark town!"
But Jonah closed his ears..."No,No and No!"
Then Jonah ran away from the Lord.
He somehow found a ship in a balmy bay.
Paying the fare, he jumped aboard
And sailed for Tarshish to get far, far away.
Then God sent a fierce, wild and dark storm...
The ship threatened to go straight down to the deep!
A terrified crew started to mourn
While Jonah was below deck in a deep sleep.
Lots were cast. Whose fault could the storm be?
Guilty Jonah drew the shortest straw of course...
The sailors cast Jonah into the sea
And the wild, raging water lost its strong force.
As Jonah fell into the wild sea
God called up a very special and huge fish...
It opened its mouth wide as can be
And Jonah was swallowed like a gourmet dish.
Sometimes things get bad enough to pray...
So, Jonah reiterated his big wish
And strongly promised to go God's way.
"Now, please, God, just get me out of this big fish!" 
The huge fish dumped Jonah on the sand.
Finally out of that terrible, dark place,
Jonah was a renewed and bold man.
"I"m ready to go do God's will with His Grace."
Then God spoke to Jonah a second time...
"Go to Nineveh and my message proclaim."
Jonah ran as fast as in his prime
To that great wicked and sinful city of shame.
Jonah preached doom to that evil city.
The Ninevites listened and believed the Lord.
They repented and prayed for pity...
God had compassion and their hope was restored.
Jonah was angry with a passion.
"This evil and sinful town deserves to be destroyed!
Why send me, just to have compassion?"
God replied, "Have you any right to be annoyed?" 
Now Jonah went and found a shelter...
He watched the city and waited for a sign.
God grew a vine to stop the sun's swelter.
And Jonah was very happy with that fine vine.
God sent a worm that brought the vine down.
The scorching sun now made Jonah mad and faint.
God said, "Love that vine more than that town?
Should I not love the people and show restraint?"
Email comments and questions... For more info jump to Jauntin'- about my Art