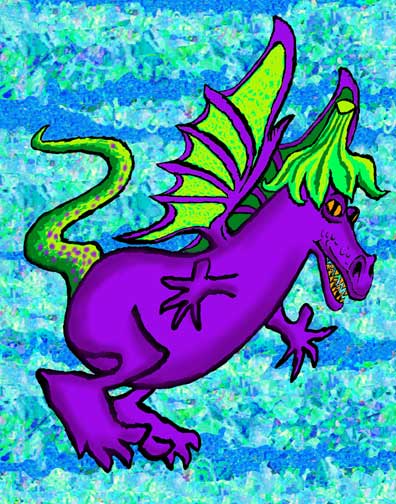 Eggplant in the Sky…
The humble eggplant is pretty cool…
Hey! It's purple… usually…
And can fly
High…
High as the wailing jazz sounds
Of a soprano saxophone…
John Coltrane, please!
With his big fan, the rooster, Kakatone.
Of course eggplants also dig jazz…
After all, they are in the nightshade family,
They have soul
And tons of panache…
All vegetarians and most Italians love them
Even though at one time 
Eggplants were actually believed to be poisonous!
Now they make a great parmesan.
Technically considered a fruit
The eggplant is never eaten as a dessert
But enjoyed as a vegetable 
Even though it looks like an egg…
Poem inspired by all those jazz loving, 
flying Eggplants and the music of John Coltrane.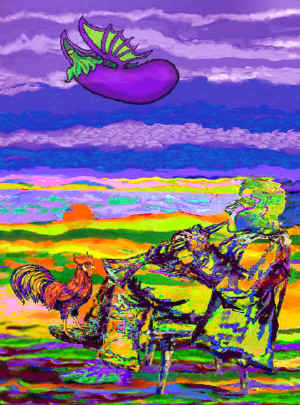 Rocking Chair in the Sky…
Have you ever heard a chair talk?
If you haven't, you're not listening!
Everything talks…
You just have to know how to listen.
And, everything has a story to tell. 
If you really listen to a chair, for example,
And get to know it:
    How it feels to be a chair,
    It's construction, 
    It's history,
    It's design,
    It's personality…
 You will be told some fascinating tales
About people, creatures and other chairs.
Rocking chairs are the best story tellers.
They will move you with their dramatic narratives.
Toss in a tarradiddle or two.
And, they are obsessive gossips!
Just a rockin' an' a talkin' …
So be careful what you talk about 
The next time you sit in a rocking chair!

Poem inspired by the moving experience of 
sitting in and listening to a variety of rocking chairs over the years.
Tarradiddle: noun. 1. a trivial lie. 2. pretentious or silly talk or writing.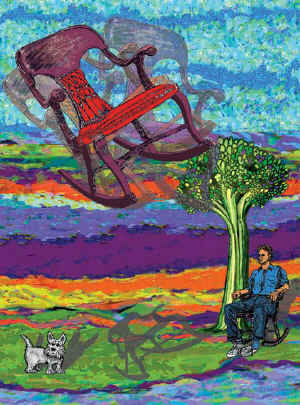 "Bird" in the Sky…
Bicycle touring is always exciting…
The countryside is full of fantastic wonders.
Dogs barking and running out to greet you…
Chipmunks zipping across your path,
Barely escaping the wheels.
And, Wooly Bear caterpillars humping along the road
On the way to some mysterious destination…
Roosters crowing… And telling jokes.
Horses grazing, always grazing!
Goats just being goats…
Cows undisturbed…
Squirrels running up and down disturbed trees…
And great jazz music from the sky!
What the…?
It's the "Bird"!
Charlie Parker flying by…
Improvising a jazzy response to the glories of nature…
Fantastic!
Bicycle touring is always exciting…


Poem inspired by the wonders of God's
Creation discovered on bicycle tours and the legendary 
Charlie Parker, whose music lives on in the jazz world.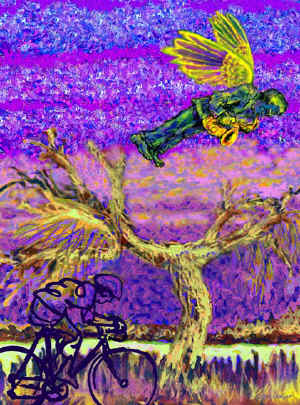 Moldy Bologna in the Sky…
Head in the fridge…
Now where is that bread?
Ouch!
Knocking over things with my head.
What's this in the back?
Something weird in a plastic bag…
Really strange… colorful… Mold?
It's a slice of moldy bologna!
Fantastic colors and textures…
I dig it… Artistic…
A photographic opportunity.
I must record this for posterity.
After posing for the photos
The moldy slice of bologna demanded freedom
And leaped into the sky.
U.F.O. reports abound in Montana…



Poem inspired by the moldy slice of bologna abandoned in the refrigerator by his wi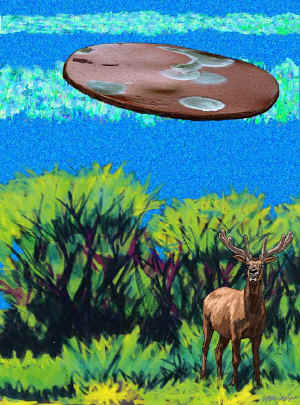 Dreaming of Flying…
Sometimes you find yourself in strange places…
I remember Greenland.
It wasn't very green!
I was green…
A young man in a strange land.
An isolated U.S. Air Force base
Up a fjord…
A lonely piece of earth
During the Korean War
Far from Korea.
I worried about the guys in that strange place.
It definitely wasn't green…
 
I now pray for our troops in Iraq and Afghanistan. 
Not green…
I had dreams of flying…
I'm sure the troops today dream of flying…                    
Somewhere else…
Somewhere green!


Poem inspired by an interesting and educational year 
serving at Narsarssuak A.F.B., Greenland, many years ago.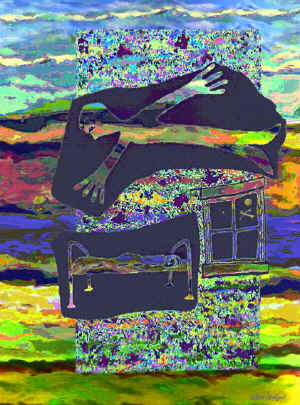 Ellipsis in the Sky…
What the…?
Three dots in a row?
How many periods do you need 
At the end of a sentence?
The ellipsis is a mysterious bit of punctuation…
Not very well understood…
And not always used correctly
Or in the right spirit…
But, the ellipsis is cool.
It says a lot with just three dots…
It can indicate words missing in a passage of text…
But understood in the context…
That's cool!
However, the ellipsis' most fascinating use                 
Is to end a sentence
By trailing off in an intriguing manner…
When words just can't do the job
And the imagination has to be tweaked
Then creativity can have a wild joyride…
Now that's really cool 
And…

Poem inspired by the intriguing ellipsis…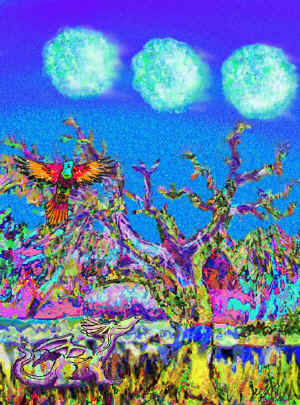 Ear Trumpet in the Sky…
What?
Errth xinfg an tsfkhjug suhh in the Fog…
What?
Errth xinfg an tsfkhjug suhh talking Dog…
What?
Bicycling with old men can be frustrating
And often humorous…
You have a Cataract?
No…No…No! 
I have a Cadillac… 
What?
We tell stories and jokes while riding
But, not all words reach our brains 
Intact through old ears…
And the best of hearing aids don't always help…
Even a high tech ear trumpet…
Words can become something like a tiger!                          
What?
Words can become something else entirely!
What?

Poem inspired by riding with wonderful old friends 
on fantastic and fun bicycle tours over many years and places.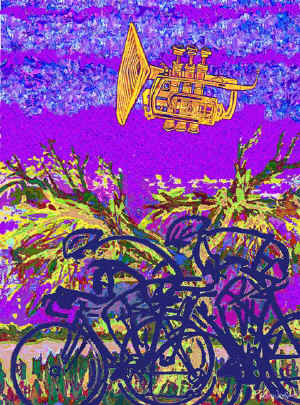 Joyful Sounds in the Sky…
Joyful sounds fly up to the sky…
A tree is playing jazz improvisations…
In the barren wilderness.
The tree starts a chorus…clapping…shouting…
Cool tenor saxophone sounds…
Is that tree John Coltrane?
Joyful jazz riffs fly high…
Birds groove on all the colorful sounds…
All creation is praising God…
For He has come to the wilderness
To offer love and mercy…
And Joy to the world…
The sea resounds…
The rivers and mountains clap their hands…
Musicians blow their horns…
All shout for joy to the Creator!


Poem by inspired by Psalms 96, 98 and John 3:16-21.
John Coltrane, a legendary jazz musician, had a spiritual 
awakening, and played his sax to the glory of God.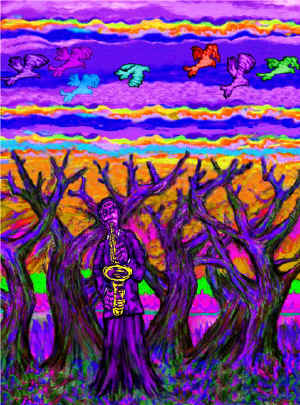 Fantasy Jazz Landscape…
Jazz piano sounds… Floating… Flying…
Creating a fantasy landscape…
Fulgent atmospheric colors…
Down to earth textures…
Unique shapes and formations…
A very special environment…
Green…A fascinated bird…
A broccoli tree…
Joyful hills and streams…
The earth is grooving on the music…
The piano soars…Light as a musical note…
The jazz pianist is telling stories… Life…Love…Sorrow…Faith…
Fingers floating…Flying…Caressing…
Complex rhythms…swinging…bluesy…
Delicate improvisations…
Sentimental… Emotional…Jocund…
His head nods as he plays… to his stories…
To the keyboard…
To exciting sounds…
To friends… jazz lovers…
To the world…
Poem inspired by the exciting jazz piano playing 
of John Shea.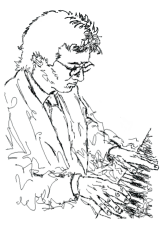 Animated sketch of John Shea playing the piano...

Other Galleries of Robin Jensen's art recommended by the flying eggplant...
"JazzArt Gallery Three! " "JazzArt Gallery Two!"