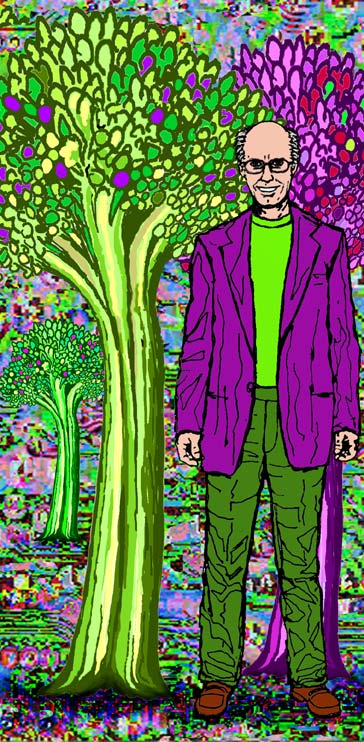 Hope…Transformation… Joy...
Dark, watery environs…cold…lonely…
Monsters swim around me…
I'm only a larva…mundane…no hope…
"Come…"
This is the only world I've known,
for years…years…
I can't just leave, can I leave?
"Come to the light…"
But, it's a different world, it's so bright!
A different atmosphere…air…light…
Dare I hope? Is there hope?
"Come up to the light…"
I'm crawling up…I'm climbing…up…
It's so bright…like a star…instar!
My body is splitting apart…instar!
My heart is pumping wildly, faster, faster…
The final instar…Transformation…
Wings!…Wings spreading! Wings moving, I'm flying!
I'm a new creature…a colorful creature…
Flying into the light…
Free from the dark…
Joy!


Poem by Robin Jensen, inspired by a colorful, shimmering dragonfly seen as a child and 2 Corinthians 5:17.
Instar: The period between moults when the dragonfly larva sheds its outer casing to grow a new one. The final instar is when the aquatic larva has developed all the attributes needed to sustain life as a winged terrestrial insect.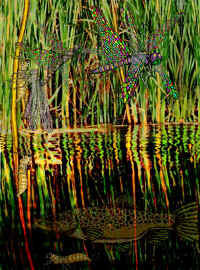 Isabella Tiger Moth Dreaming…
Walking…trotting… running…going…running…
Cold…summer must be over…running…going…
After feeding and moulting…feeding and moulting…
All summer long…growing…changing…running…
Going… traveling…to a special place…
But where? Must keep going…run…faster…run…run…
Across fields, grass, rocks, sand…harvested land…
Across a wide gray desert…large, noisy monsters
Roaring by…smoke…acrid odors…Watch Out!
A monster rolled close by…run…run fast…
Strange, hungry creatures everywhere…
Roaring by…run…run…
Must find a shelter, a home for the cold time…winter…
Hibernation…sleep…dream…
Suddenly it's very cold…slowing down…stop…
A shelter…curl up…rest…sleep…
Hibernation…
Dreaming…colors…wings…flying…
Yellow…green…puce…magenta…orange…scarlet…
Purple!
Suddenly it's warm…hot…spring. Awake…hungry…
Walking…trotting… running…going…
Where…? Metamorphosis…!
Cocoon…changing…reforming…transformation…
Fulgent colors…wings…flying…
Yellow…green…puce…magenta…orange…scarlet…
Purple!
Poem by Robin Jensen, inspired by the cute woolly bear caterpillars seen on my fall bicycle tours. The Isabella Tiger Moth, known as a woolly bear caterpillar, is mainly seen in the fall of the year crossing highways, sidewalks and bicycle trails. There is a nasty curse involved if the woolly bear is run over by a car or bicycle or stepped on before he or she can find their place of hibernation for the winter.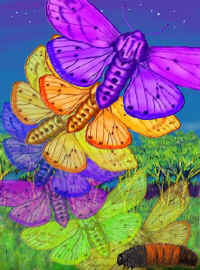 Our First Steps in Faith...
"Come…"
Boldly I step out of the boat toward the
Shinning Light,
Ripples radiating behind me with each step.
Fish watch in amazement…
I'm walking to Jesus on the water…
Waves suddenly splash over my feet…
Where did that wind come from?
Why is that rooster walking behind me?
My feet sink into the sea, has He deserted me?
Save me!
A hand pulls me into the bouncing boat… With Him…
The wind dies down…my heart is calm…
Why did I doubt the love of God?
Matthew 14:29
Poem by Robin Jensen, inspired by the Apostle Peter and his fantastic adventures.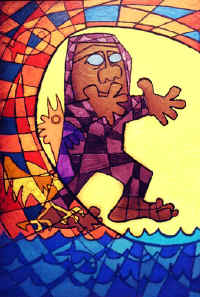 Meditations… (John Coltrane)
His saxophone wailed and thundered…
Full of fire…
Flaming jazz sounds…Fantastic sounds…
Harmonic insights…unique…acclaimed…
The journey became complex…
Out of harmony…
False notes…Low notes…
Narcotics…
Alcohol…
Conflict… depression…
(Even fired by Miles…)
The Flame was close to dying…
Conviction…
A desperate need to change…Redemption…
Rededication…a return to a childhood faith…
A faith of love, knowing God's love…Grace!
A Spiritual Awakening! Glory to God the Father…
The Flame rekindled…burning brightly…hot…
Jazz played to the glory of God…with love
To a Love Supreme…


Poem by Robin Jensen, inspired by the exciting
Jazz music of John Coltrane, played to the Glory of God.
"Thank God almighty in Jesus' name…
Thank God almighty for John Coltrane."
(From a hymn of the Church of Saint John Coltrane, an African Orthodox Church in San Francisco.)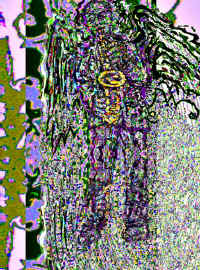 The "Bird" flew high…
The alto sax sounds soared…
Charlie Parker was flying
High…
No wonder he was called the "Bird."
He tried to tell exciting jazz stories with unique rhythms
And phrasing…
At first he struggled with the new and defiant ideas…
He couldn't play what he heard in his mind…
Ridicule…a cymbal bouncing on the stage…
Gonged… humiliated…
The melodic sounds finally broke free of the bond of Gravity… the "Bird" flew high…
He created a new, fantastic landscape of jazz…
Alternate directions…other dimensions…
Bebop… an era transformed…
By the "Bird" …
Then tribulations…lost in drugs…high…
Anguished…fraught with torment…
Prematurely worn out…gone!
Not knowing the Love of God…Grace…
But, God had already given "Bird" Love…
Talent…Common Grace!
His music Glorifies God!
"Bird's" alto sax sounds still soar
And defy gravity today… Halleluiah!


Poem by Robin Jensen, inspired by Charlie "Bird" Parker's soaring
alto sax jazz music, his struggles, his mystery and the Common Grace of God available though the Holy Spirit in his short life.
Charlie "Bird" Parker, 1920-1955.
Street Piano Man…
It was a wet, January evening…
Walking south on the upper west side…
I heard music…piano…
At the corner of Columbus and 63rd… or maybe 62nd…
Then I saw him…an old man… a street musician…
Playing an old, beat-up grand piano…
Sitting in an old kitchen chair…
White enamel, chipped, worn…
Memories of the kitchen in my childhood…
Veneer on the piano was peeling…
Piano strings were broken and curled up like fingers…
He was limited to the center keys that worked…
The old man wore an old knit cap, frayed clothes…
Worn athletic shoes worked at broken pedals…
The street piano man was deep into his music…
The music was not familiar to me…
A small crowd gathered… listening…
How bizarre…
An old man playing an old grand piano…
On a busy street corner in New York City.
I dropped a dollar in a collection plate on the piano…
A church collection plate…
During a pause, I asked him about his piano…
"I found it… and push it out here everyday…same time…
This is my spot… My special place…"
He started playing again…
After dropping another dollar in the plate,
I continued walking downtown…
Many more questions raced through my mind…
But, I smiled and thanked God for having met another unique character in my fantastic life journey.
Poem by Robin Jensen, inspired by an old street piano man in N.Y.C.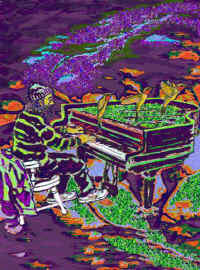 Straw Man…
The hulking, elderly man shambled into the restaurant
And dropped into a booth…
With a sigh… a grunt… a mutter…
His wife quietly sat down across from him…
He was somewhat rumpled… clean, but not neat…
Overweight… wearing an old English cap…
Wrinkled dress shirt and crooked tie…thin, stringy hair
hung down from under the cap over his neck…
It was his shirt pocket that quickly caught my eye…
The pocket was stuffed with an incredible collection…
At least seven pens and pencils…
Other objects I couldn't identify protruded proudly…
Including at the back, a blue cloth covered object…
A wallet?… a cell phone?… a mystery…
Then there were the many soda straws…

The type that bend at the top…
Bent in every direction…
Orange, blue, green, yellow and stripped ones…
Sprouting like flowers in front of the mysterious blue object…
Amazingly, everything seemed in order…
Neat… in the right place…
And the soda straws did add a decorative touch…
This unusual, old, rumbled man had a neat, orderly,
Very intriguing, stuffed shirt pocket…
Did his shirt pocket express his life…his world view?
Can you know a man by his shirt pocket?


Poem by Robin Jensen, inspired by the "Straw Man" viewed in a Perkins restaurant in north Florida.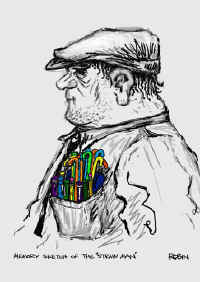 Jazz sounds at twilight…
Bats are fascinating…
Not the baseball type,
The unique flying mammal type.
Another of God's fantastic and special creatures.
Like jazz musicians they fly at twilight
And make wild, exciting sounds
That help them find food.
Echolocation…something like radar…
Bouncing cool sounds through the evening air.
That's how they locate and try to snare 
Their favorite dinner item… moths.
However, the moths are cool…
They have a radar detection system! 
They can hide or fly evasive maneuvers
When they hear a bat in the vicinity.
And some moths can even jam a bat's radar
With their own jazzy sounds…
So they can thwart and evade the bats
And fly another day
Adding to the cool jazz sounds at twilight…
A nightly jam session!

Poem by Robin Jensen, inspired by the many unique
and fascinating creatures in God's creation.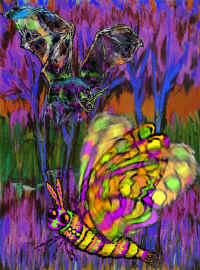 Back to the Home page!
All art in this gallery is printed at 13.3 x 18 inches and framed at 18 x 24 inches. For more info jump to Jauntin'- about my Art